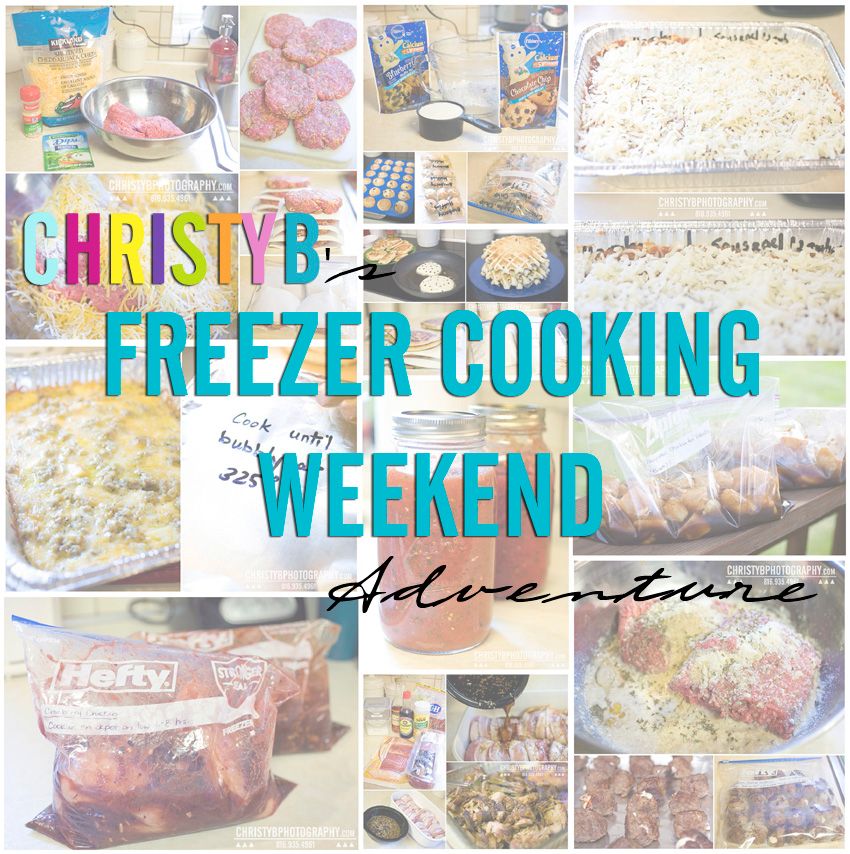 School is starting. That means it's time for my once a year attempt at being organized with healty foods and homecooked meals. (It usually lasts about a month.) This year I had the bright idea to prep meals and freeze them so I can pull them out in a morning and *poof* dinner will be ready that evening. I chronicled my adventures in the event you might be interested in my feable attempt at meal preparation.  I apologize in advance for the quality of the following photos.  I have no natural light in my kitchen and I literally cooked from 9:30am to 10:30pm both days so perfect light and interesting food styling were not an option.
I cleared my schedule for an entire weekend and away I went.  I began by making a list of everything I could think of that would freeze well. Google was also my friend.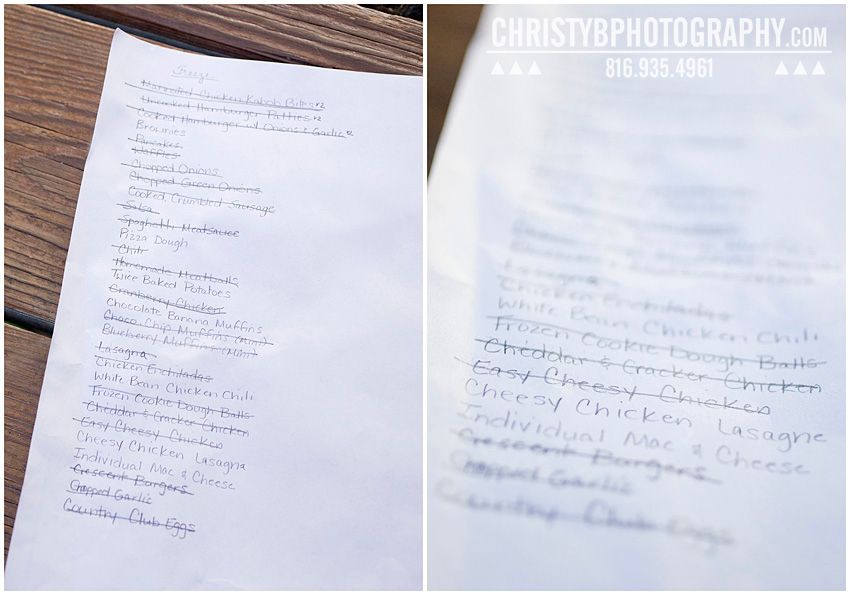 Then I braved Costco and the grocery store on a SATURDAY morning to stock up on supplies.  I barely made it out before the "Costco diners" arrived for free lunch.  This is about half of the haul.  My car was literally packed with food.  (I better not have to step food in a grocery store again for at least two weeks!)  As soon as it was unloaded, it started cooking.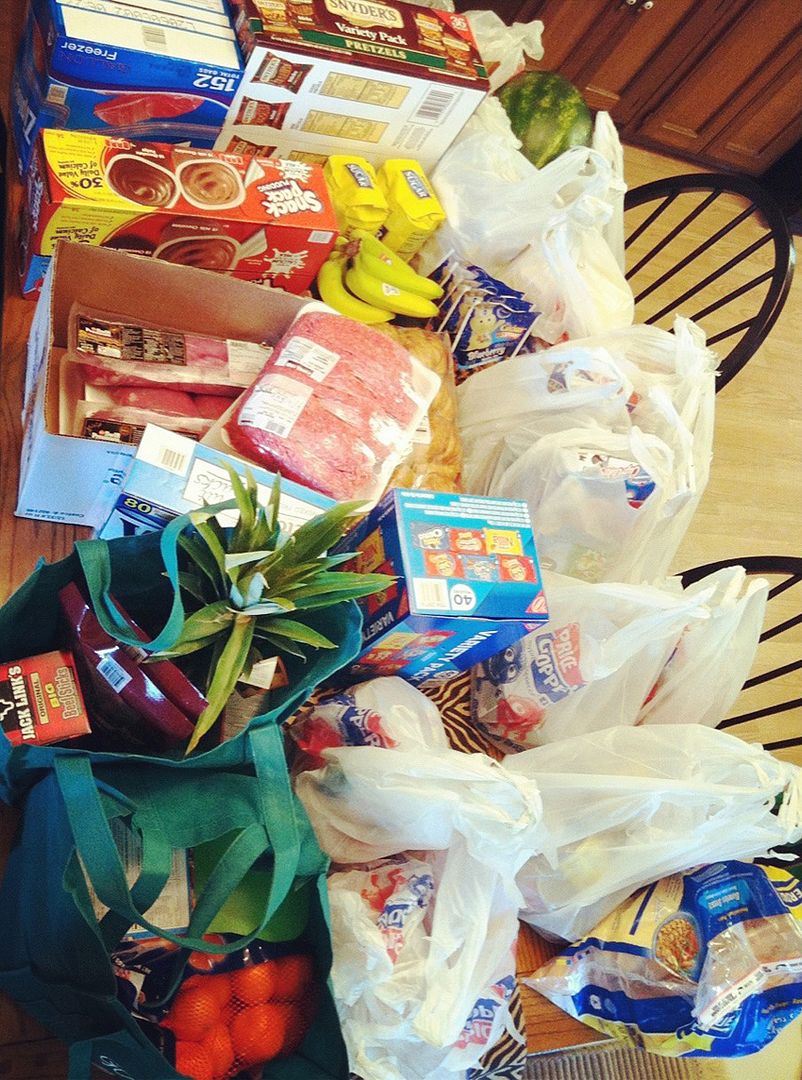 1.  Put a pork roast in the crockpot to cook throughout the day for easy pulled pork.  I simply added seasoned salt and a can of root beer we had on hand and cooked for 6 hours on low.  When it was done, I shredded it, put it in freezer Ziploc bags and meals 1 and 2 were DONE.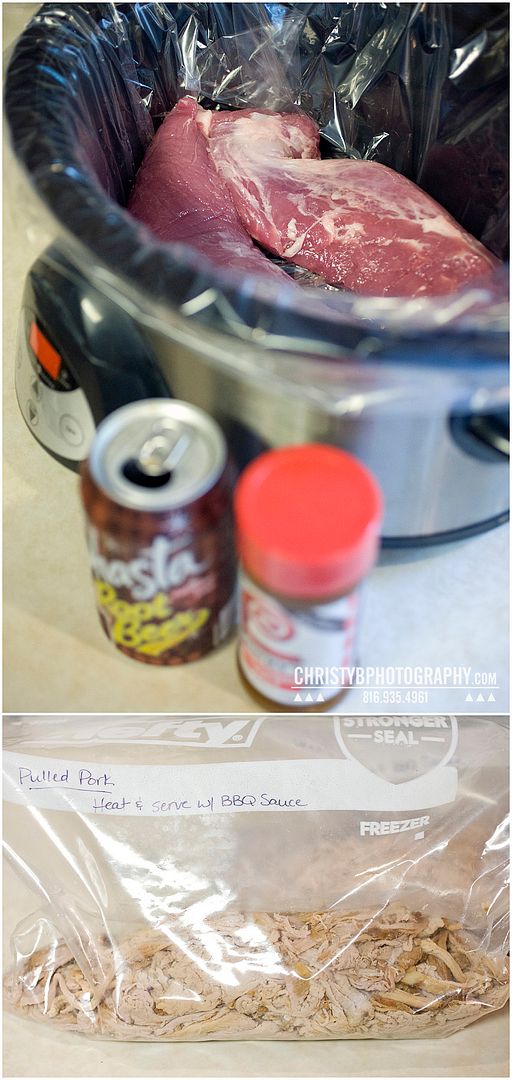 2. Prep dinner for Sunday in which the leftovers will then be frozen for another meal. This is the "Jill's Pork Tenderloin" recipe I shared back in 2009 on my old cooking blog. It's become quite popular on Pinterest and I even saw the link floating around on Facebook.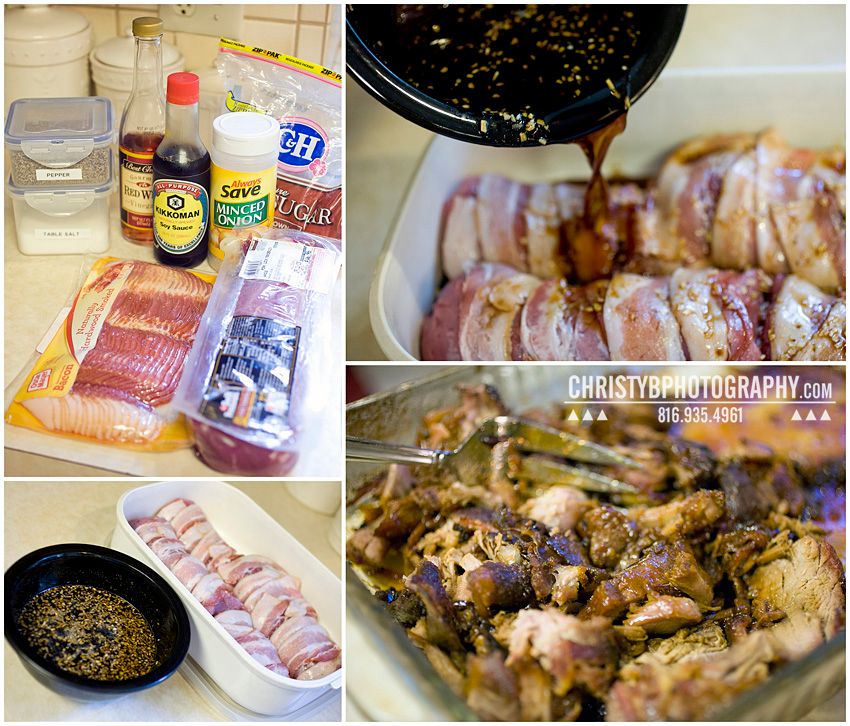 3. Divide bulk hamburger. I used about 10 pounds of ground beef for all of the meals I prepared.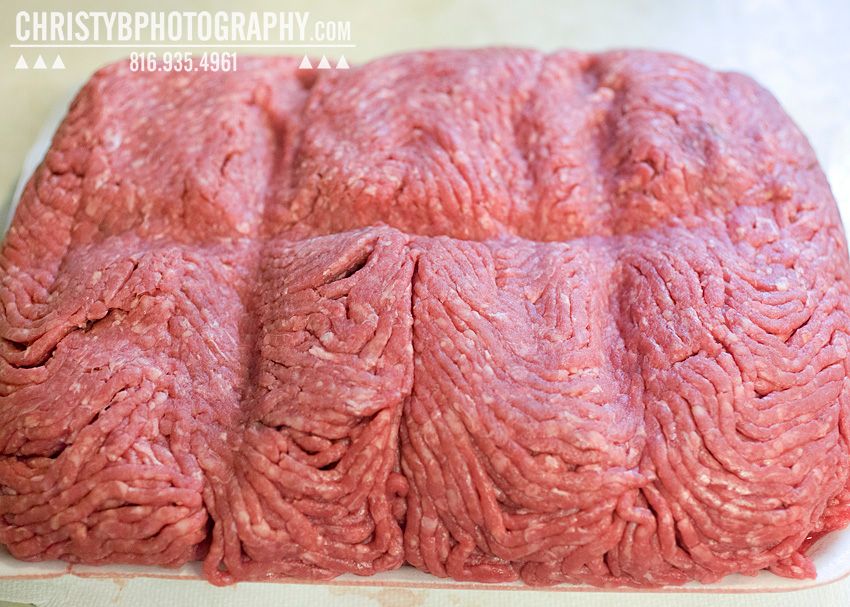 4. Prep Cheddar Ranch burger patties for freezer. Mix 1 pound ground beef with a package of dry Ranch dressing and 1 cup of cheddar cheese. I cut freezer paper squares to place between each pattie so they don't stick together.  I prepped 2 pounds of burgers for 2 meals.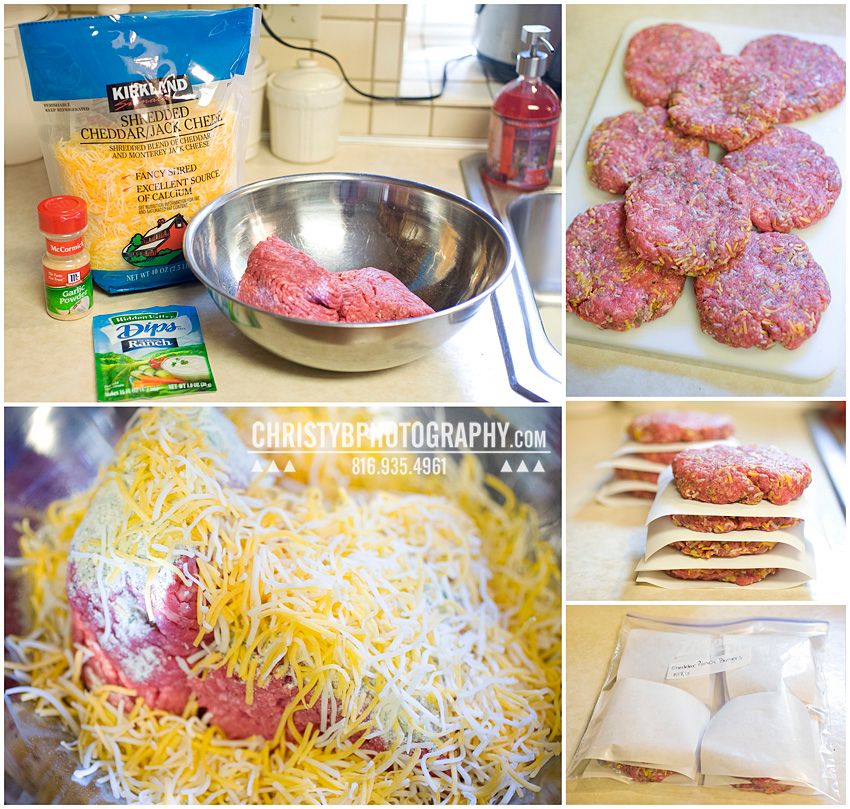 5. Brown 2 pounds of ground beef with seasoned salt, minced garlic and onions (I used previously chopped and frozen onions). Freeze browned hamburger in two 1 pound batches for future use in tacos, stroganoff, burritos, etc.

6. Using another pound or two of hamburger, make and fry meatballs.  Let cool and freeze. I had some extra fresh mozzarella cheese on hand so I made Mozzarella Stuffed Meatballs.  These can be pulled out and warmed up for spaghetti and meatballs, meatball calzones, meatball subs, etc.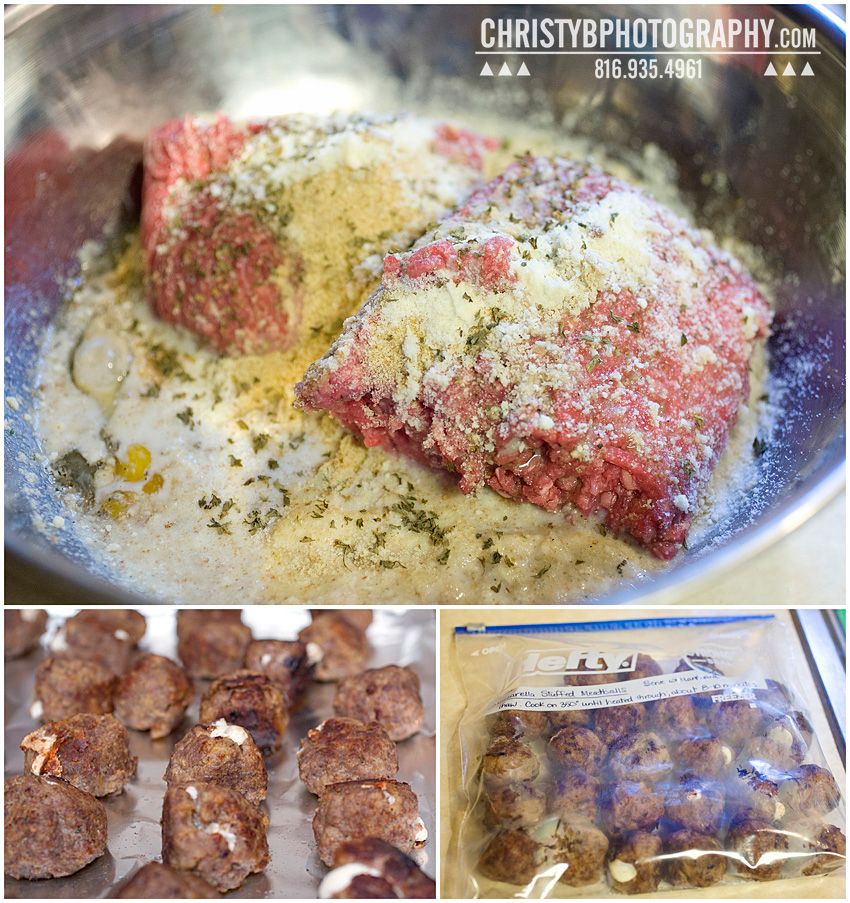 7. Keep the frying pan warm and cook three pounds of ground sausage. Place one pound in a freezer bag for later use in biscuits and gravy or sausage pizza.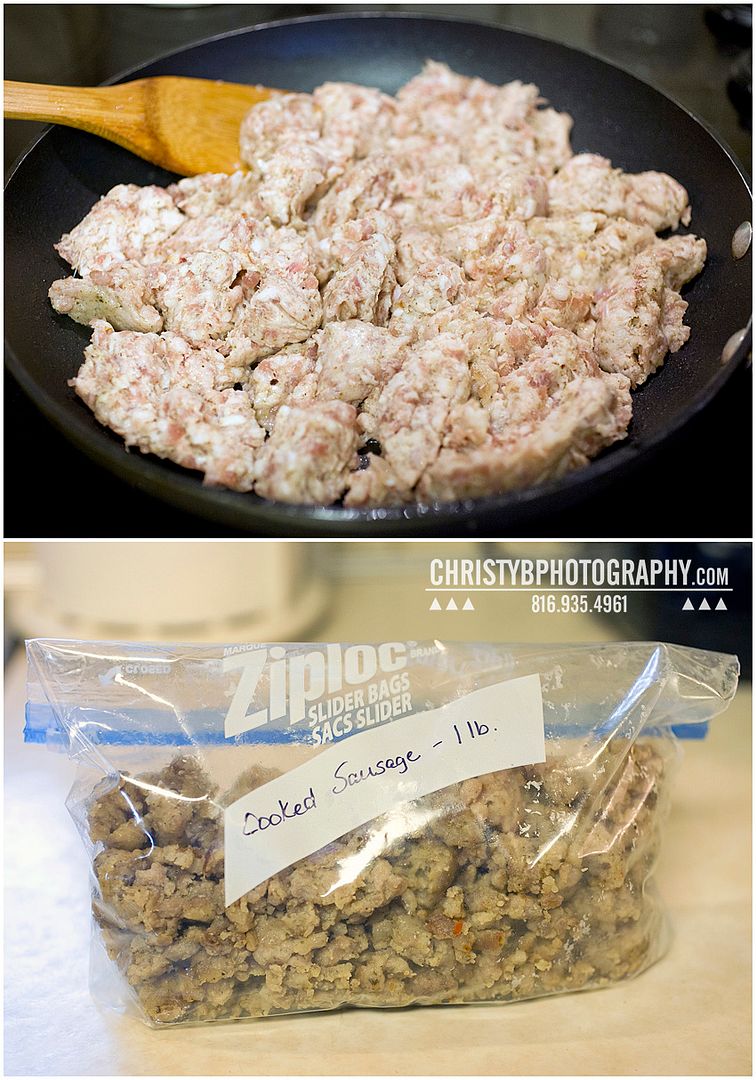 8. Use some of the ground hamburger and sausage just cooked to put together a lasagna. I used foil pans so my glass dishes aren't out of commission in the freezer. I'm not fond of sausage, so I made our lasagna half hamburger and half hamburger/sausage indicated by Sharpie written on the edge of the pan. Freeze uncooked. Cook until bubbly when ready to eat.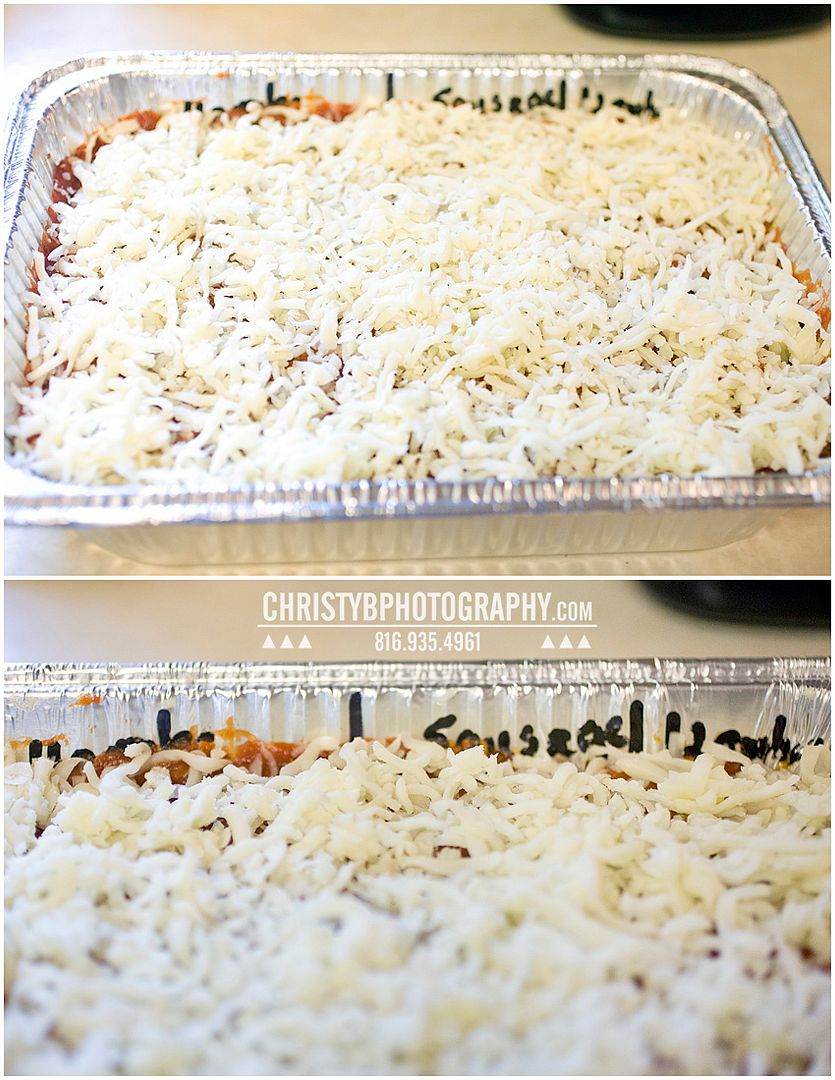 9. Use another pound of cooked sausage for Country Club Eggs. Cook as directed. Cool completely. Cover with foil, write warming instructions with Sharpie, then freeze.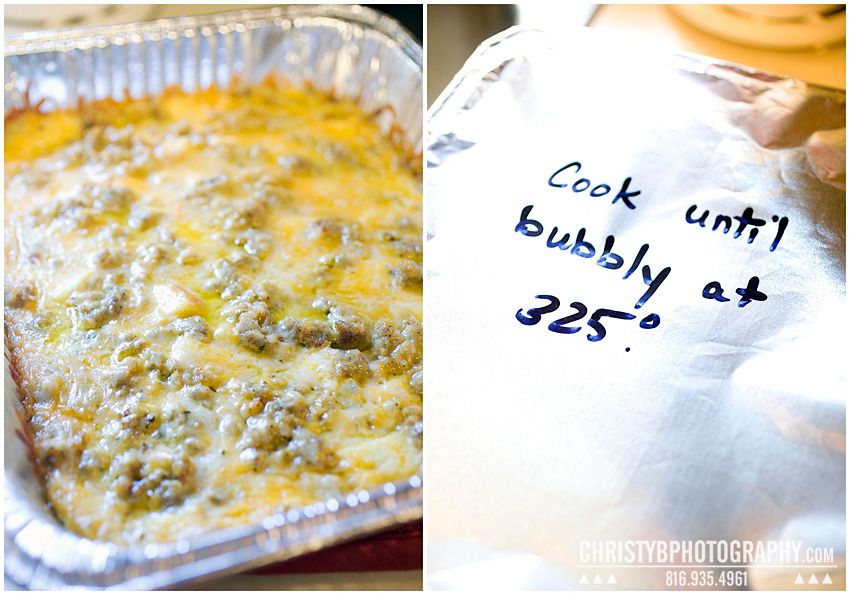 10. Day 2. Starting with a large bag of chicken breasts from Costco, I cut up eight breasts into bite size pieces (enough for two batches, four breasts in each freezer bag). Then I made two batches of my favorite meat marinade. Place all ingredients in a freezer bag, freeze, thaw when ready to cook.

Marinade for Steak & Chicken
4T molasses
4T vinegar
4T vegetable oil
2T worchestershire sauce
2T lemon juice
Garlic powder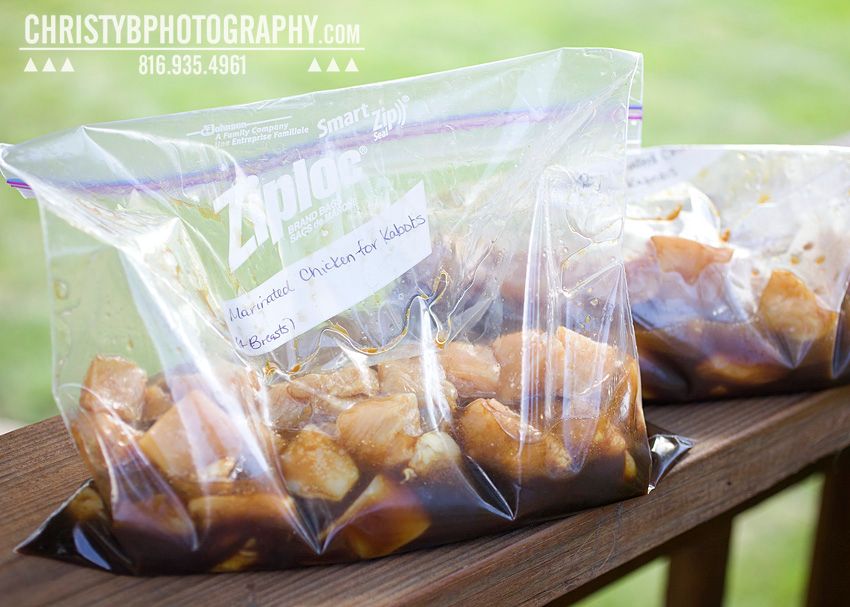 11. I made two batches of Cranberry Chicken. Put all ingredients in a freezer bag and freeze. When ready to use, stick it in the crockpot.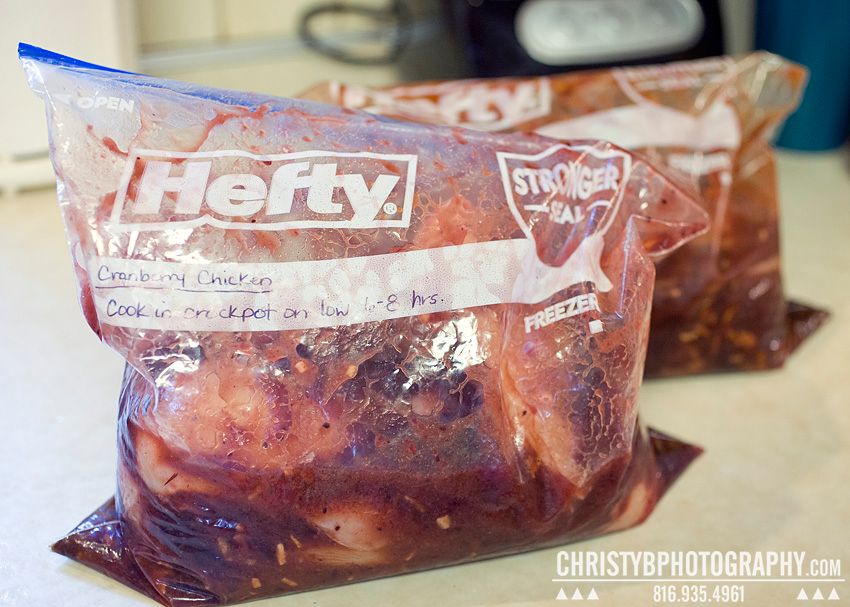 12. Next, Easy Cheesy Chicken in a freezer bag.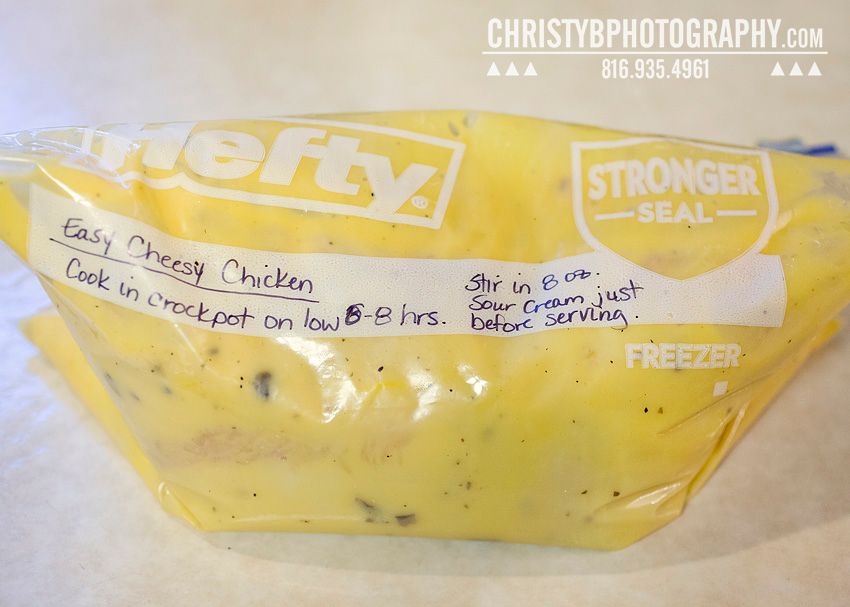 13. Backing up a bit, I started my second day of freezer cooking by filling a crockpot full of frozen chikcen breasts and allowing them to cook all day. Then I shredded the meat and placed several servings into freezer bags to be used in recipes in the future.
14.  I also used some of the shredded chicken in these yummy Chicken Enchiladas.

15. The final chicken dinner I put together was Cheddar & Cracker Chicken.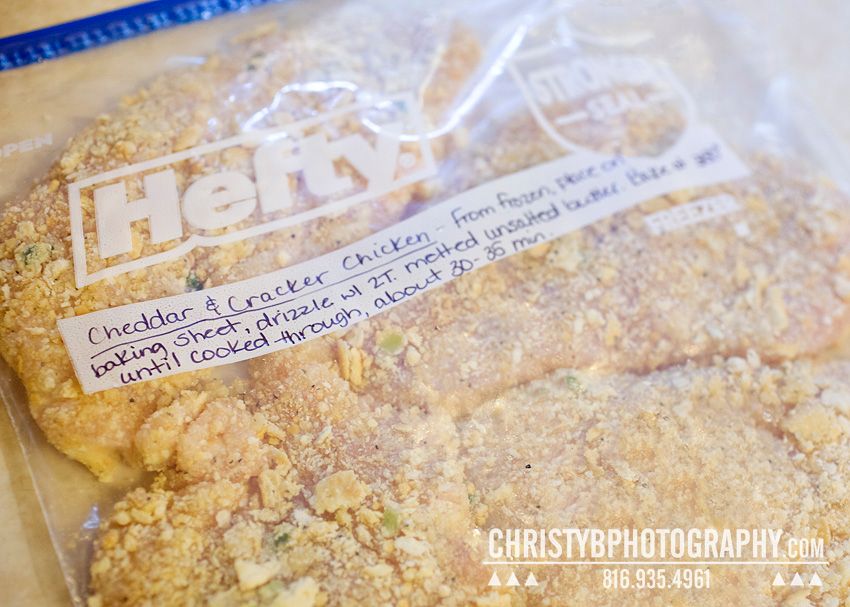 16. Time for more ground beef in my favorite Spaghetti a la Philly meat sauce.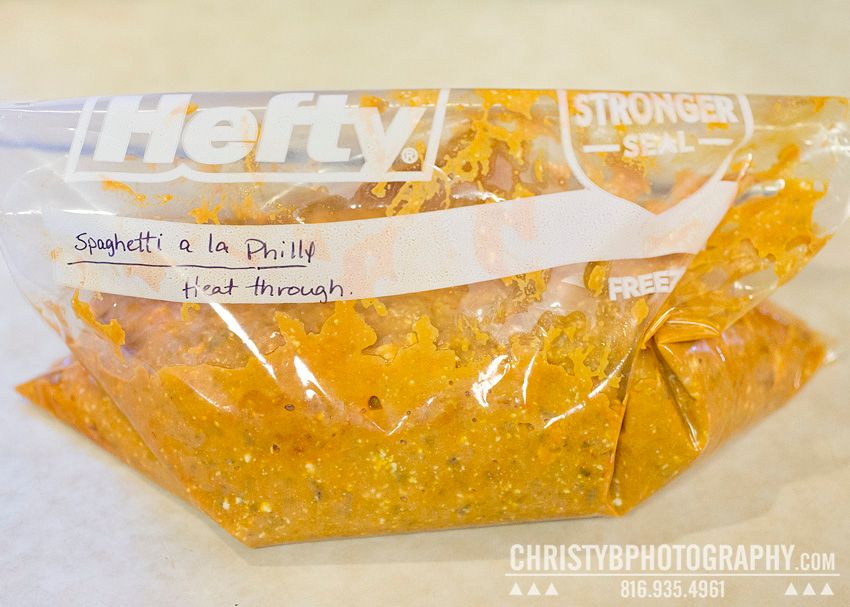 17. Another pound of ground beef made into chili. Just thaw and warm through when ready to eat.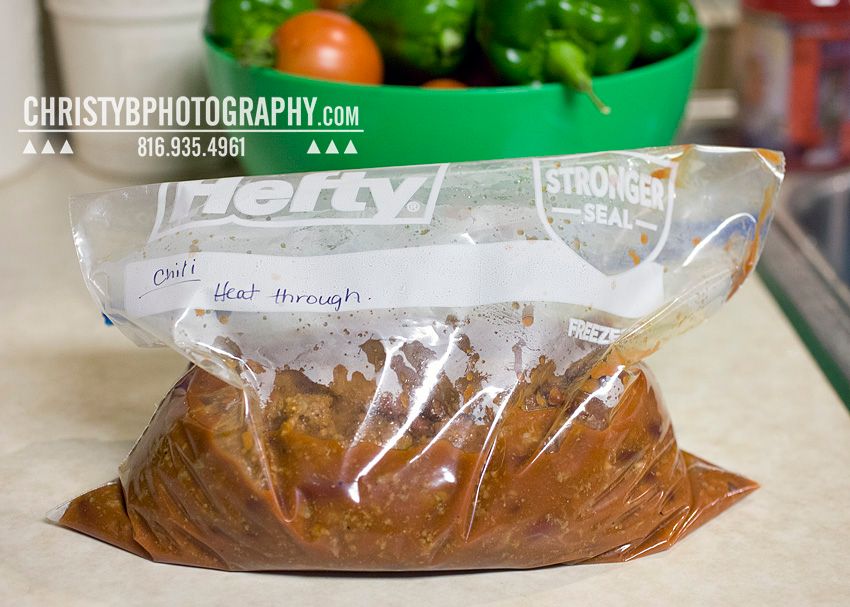 18. One last ground beef recipe for the freezer – Crescent Burgers. I prepped the meat mixture, put half in a freezer bag for a later meal and used the other half for Monday's meal. Here is a look at the finished product.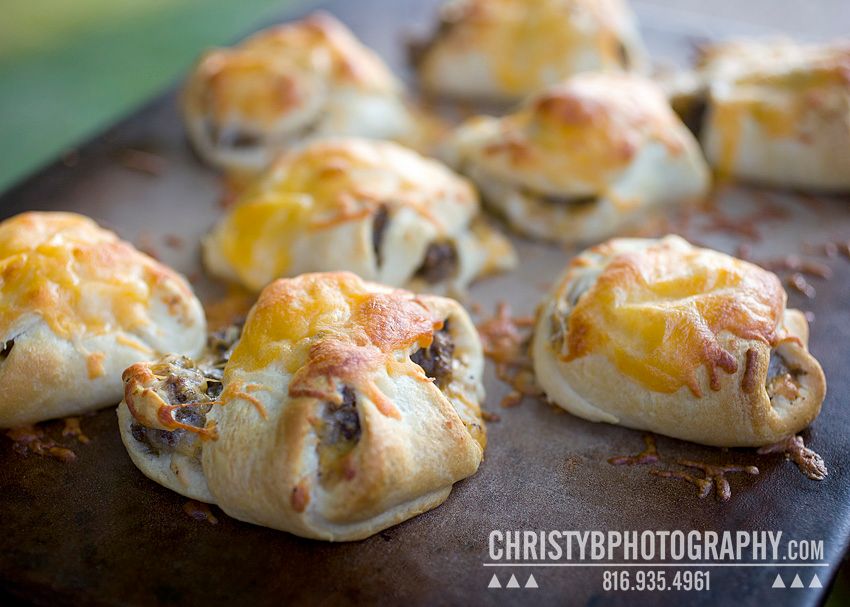 19. My tomato plants are going crazy right now so homemade salsa was a must. Since the recipe I use isn't cooked, I freeze any extra salsa. (I also use fresh tomatoes in place of canned when I am able.) The salsa does get a little watery after frozen, but I just strain some of the excess water and it still tastes perfect.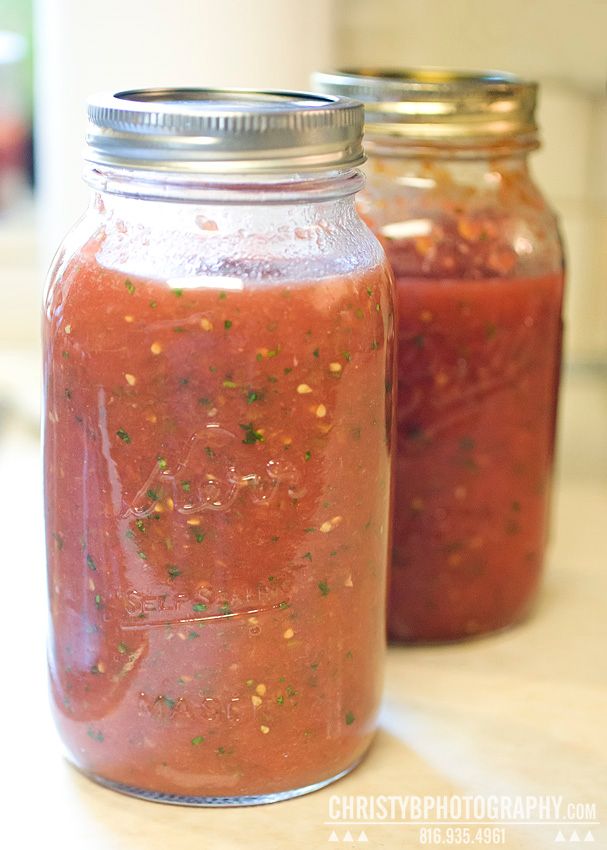 20. Can't forget the side dishes. I made a batch of Ultimate Stuffed Potatoes, ate half for dinner on Sunday and froze the other half for another dinner later in the month.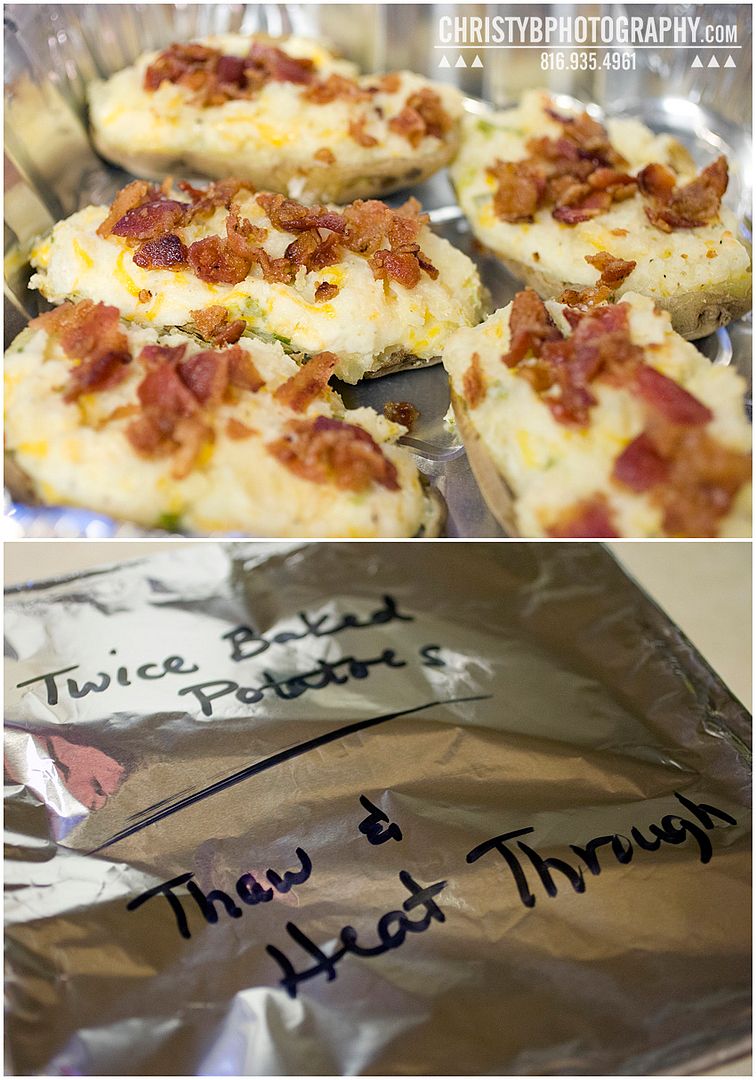 21.  I read somewhere that shredded cheese freezes well.  It seems like I'm always buying shredded cheese so I stocked up on bulk cheddar and mozzarella at Costco, divided into 1 and 2 cup amounts in freezer bags and froze until needed.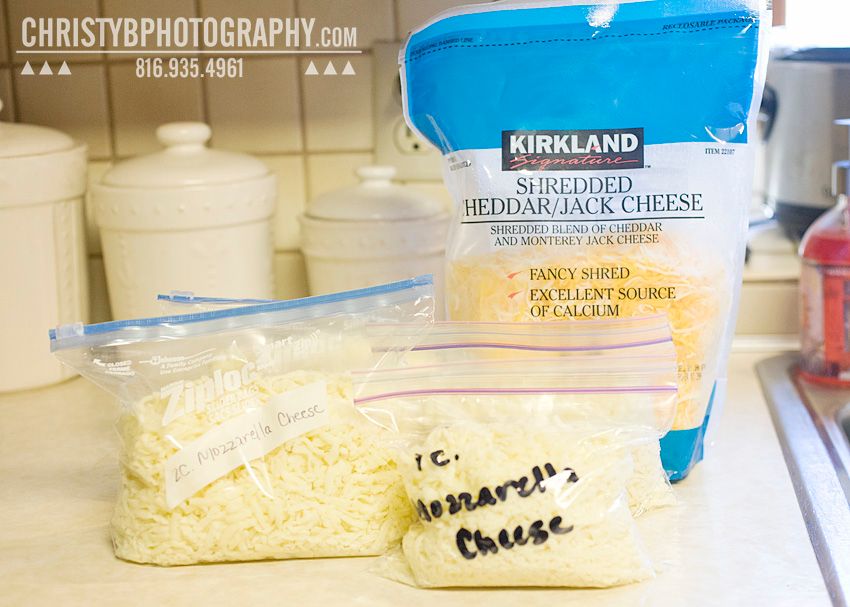 22. I've found I'm much more likely to whip something up on a weeknight if I can skip the tedious chopping and mincing of onions and garlic. I read that they also freeze well, so I now buy several bunches of green onions, a bag of white or yellow onions and a bag of garlic heads and prep them for the freezer. Then when I need them, I just pull out what I need and add throw them in.  Garlic and onion odors heighten when frozen, so be sure to double bag them.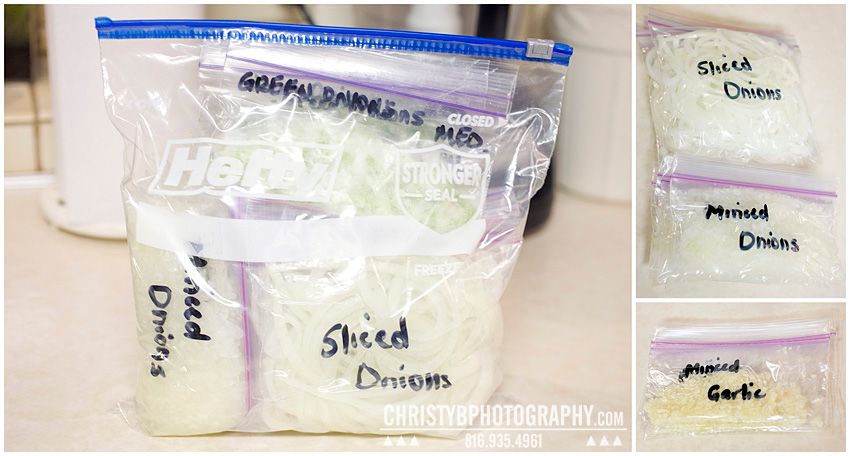 23.  My daughter has made it her mission to perfect her homemade chocolate chip cookies.  She made batch after batch this summer and was always writing chocolate chips on the grocery list.  Costco to the rescue again.  I divided the giant bag of chips into 2 cup portions and placed them in the freezer so they stay fresh until she's ready to make the next batch.  We also made a batch of dough that day and froze chocolate chip cookie dough balls for quick, fresh-baked after school snacks.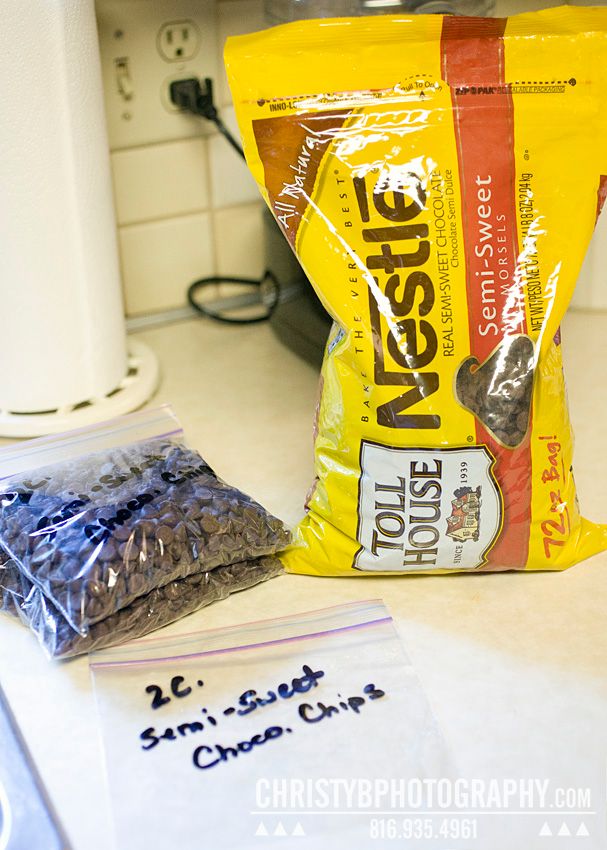 24. I know it's easy to just buy a box of frozen waffles and pancakes, but if I'm going to the trouble of bulk freezer cooking, I figured I might as well make our own. We did this last year at the start of school and it worked well. The kids just pulled out what they wanted in the morning and threw them in the toaster oven.
25. And finally, the conclusion of my massive freezer cooking weekend was mini chocolate chip and blueberry muffins; another thing the kids can grab in the morning for breakfast, for lunch or after school for a snack. I took the easy way out and used packaged mixes.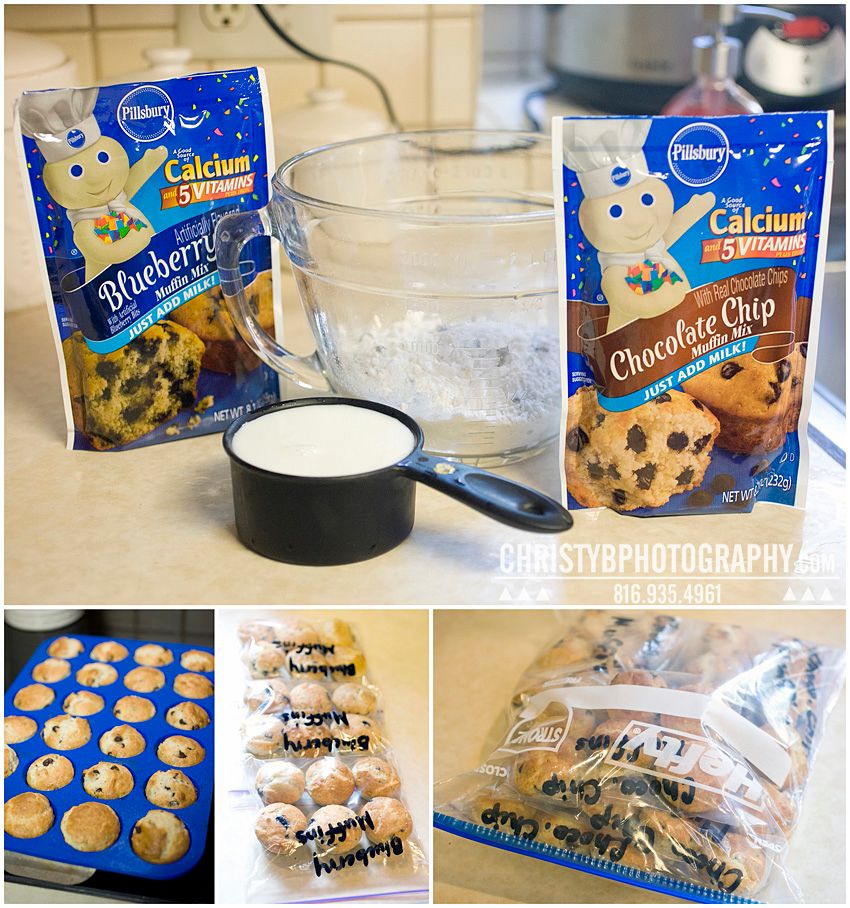 I'm upset that I didn't get everything on my list accomplished over the weekend. But, my freezer is full and it's been so nice the past few days to pull something out of the freezer in the morning, stick it in the oven after work and have a hot cooked meal on the table with very little effort! I've got tons of other recipes in mind for freezer cooking. Next time I get the urge to spend an entire weekend in kitchen, I'll do a follow up freezer cooking blog post.  No one hold your breath.  It may be the start of school next year before I get around to it again.
Linking up with:
Not Your Ordinary Recipes