I can finally breathe a sigh of relief!  My son's graduation party went off as planned and was a success.  In the week before the party we had our house painted, landscaping completed on two sides of our house, the house cleaned, I planted my flowers and garden for the summer, cooked all of the food for the party, and plenty of other things I can't even remember.  Let's just say I loved hosting the party but I'm glad it's over!
I nearly forgot to get photos of everything before the party started.  I'm kicking myself because I missed a few fun details.  I'm just glad nothing was burned and everything got done on time…for the most part.
Here is the food spread.  I opted for finger foods for easy serving.  I failed to get a picture of the Ham & Cheese Sliders.  They were the hit of the party.  The recipe is all over PINTEREST.  They are DE-LI-CIOUS!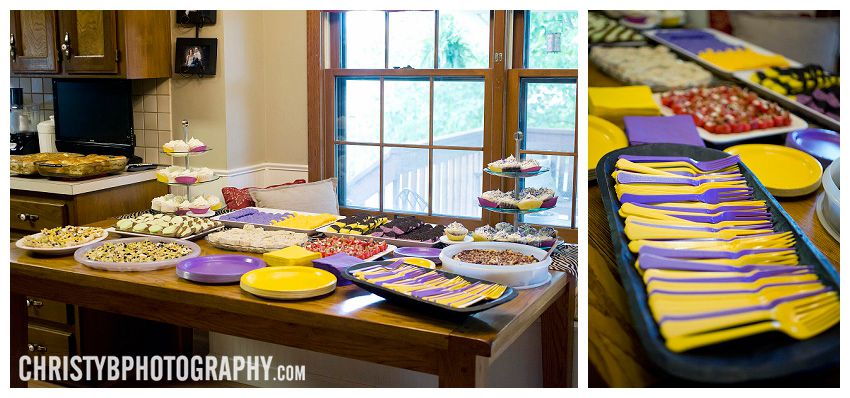 Mini Tomato Salads. I saw a picture somewhere on the internet of cute little cherry tomatoes with a mini salad inside.  This is my version.  Cut off the bottom of each cherry tomato.  Tun them upside down so they sit up.  Hollow out each tomato.  I used a 1/8 teaspoon measuring spoon to scoop out the insides.  Fill each tomato with homemade ranch dressing.  I made mine in a squeeze bottle.  Place a piece of crispy cooked bacon and a piece of spring greens in each tomato.  Viola!  Bite sized salads.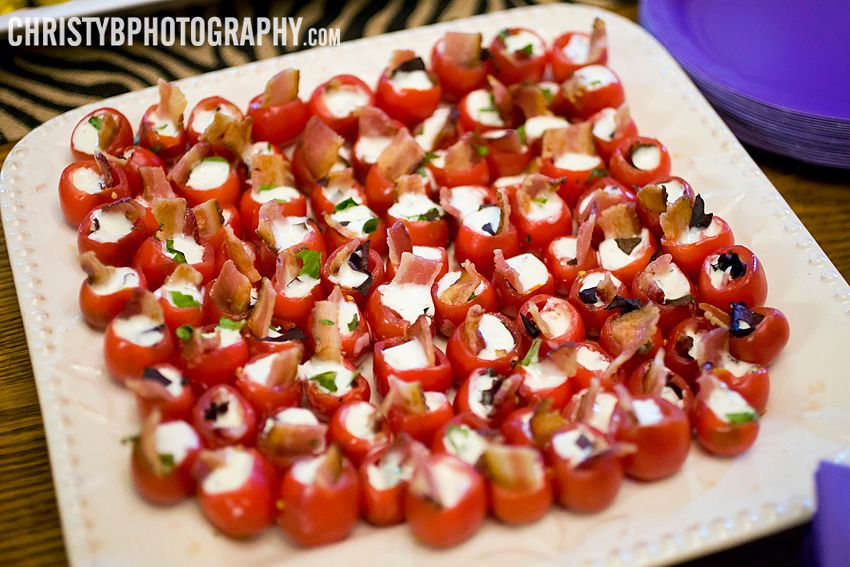 Layered Taco Dip in Tortilla Scoops.  Everyone loves layered taco dip.  It's even better when no spoon or dipping is involved.  I mixed a can of re-fried beans with half a jar of taco sauce and a sprinkle of seasoned salt.  With a small spoon, scoop a little of the bean mixture into individual scoop tortilla chips.  Add a dollop of sour cream.  Sprinkle on some chopped olives, chopped green onions and finely shredded cheddar cheese.  Just be sure not to make them too far ahead of time.  The scoops will get soggy over time.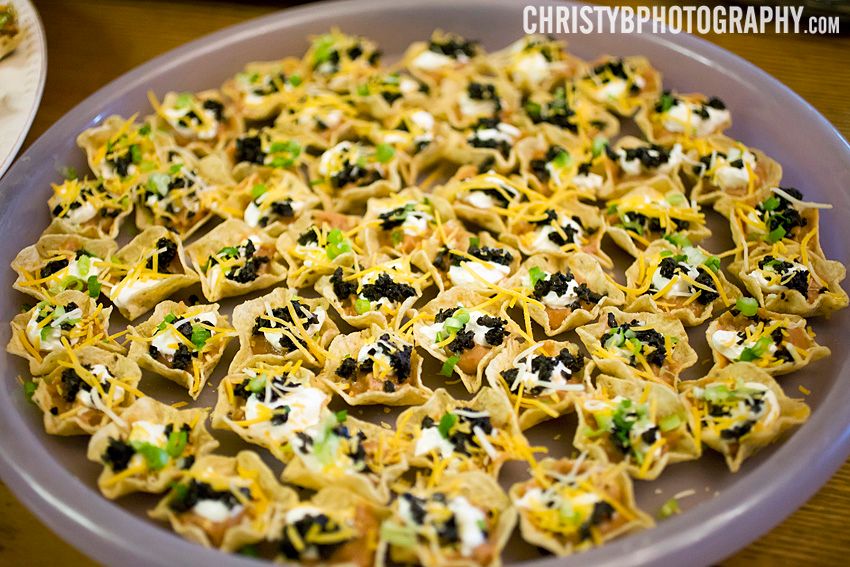 Tortilla Roll-Ups.  There are so many different versions of roll-ups.  Mine had an 8 ounce block of softened cream cheese mixed with chopped olives, chopped green onions, shredded cheddar cheese and seasoned salt.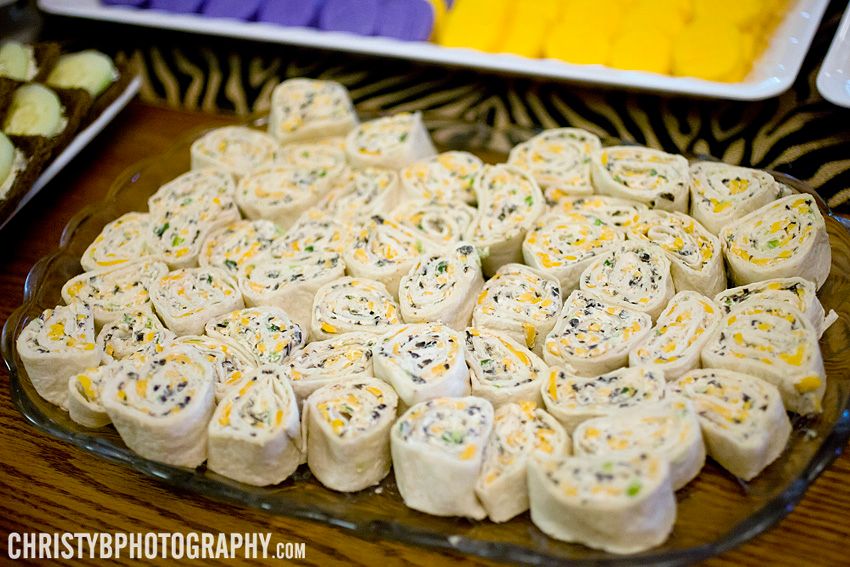 Cucumber Sandwiches.  I've had these at several parties and they are super simple to make.  Mix one container of whipped cream cheese with a small packet of Italian dressing mix.  Spread a dollop of the cream cheese mixture on a slice of pumpernickel cocktail bread.  Place a slice of cucumber on top.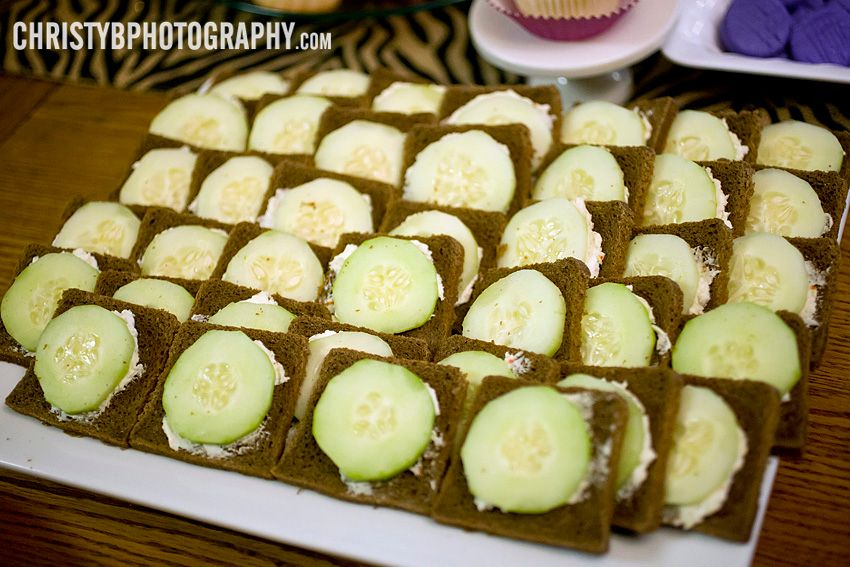 Sausage Balls.  I found the recipe HERE.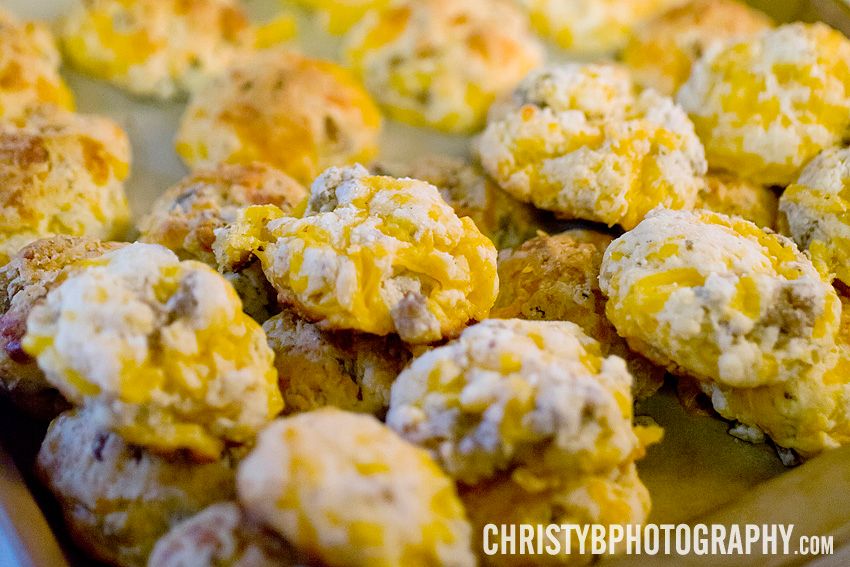 Instead of doing the smart thing and ordering a cake or cupcakes from a bakery, I baked 2 dozen chocolate and 2 dozen white cupcakes myself.  About halfway through, I was kicking myself but they didn't turn out too bad.  My son doesn't like "cake" so my mom made him a heath cheesecake, too.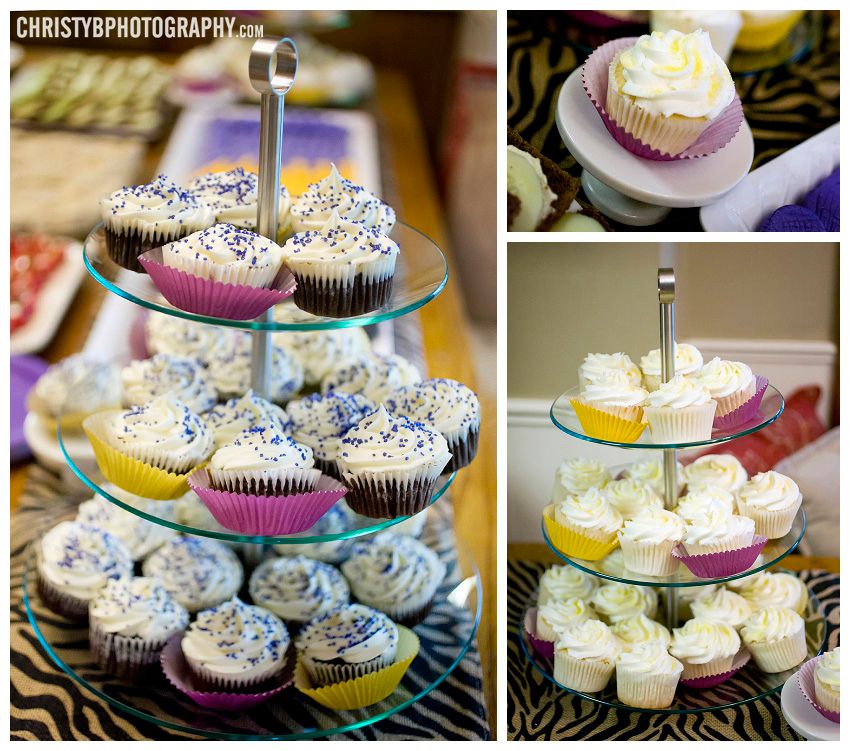 Chocolate Dipped Oreos.  Just take colored melting chocolates and dip half of each Oreo.  Add sprinkles, if desired.  Easy peasy!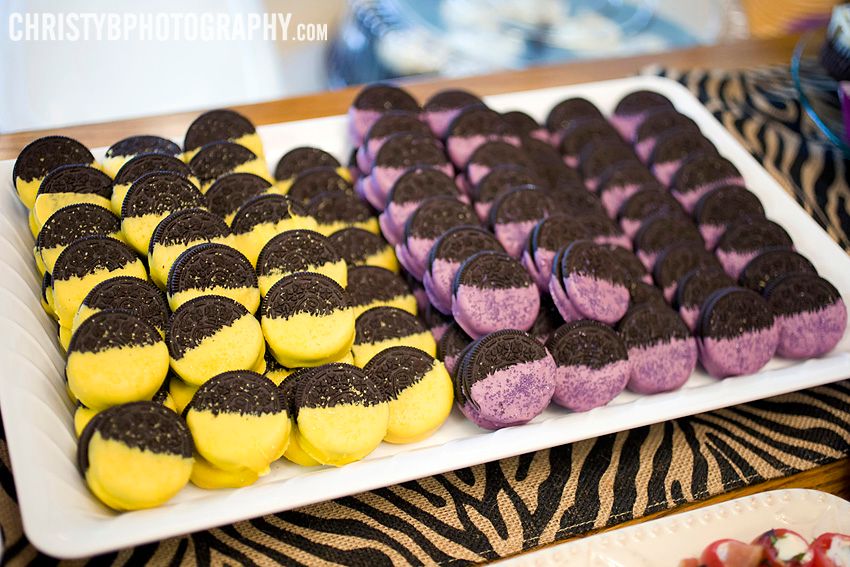 You can't go wrong with Cream Cheese Mints!  People literally fight over them.  You can find the recipe HERE.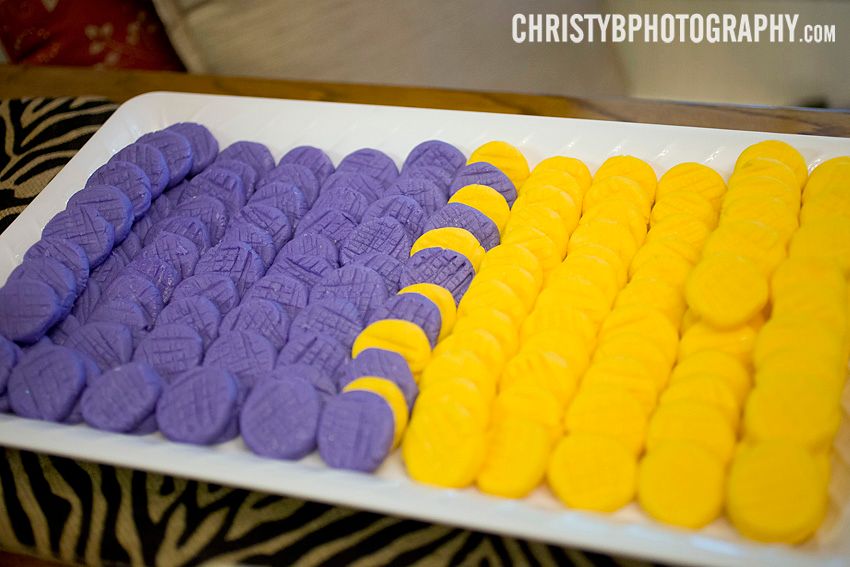 I kept it pretty simple with the drinks.  Grape and Cream Soda flavored cans of pop (purple and gold), iced tea with lemon slices (for the gold) and Purple Punch.  You can find the punch recipe HERE.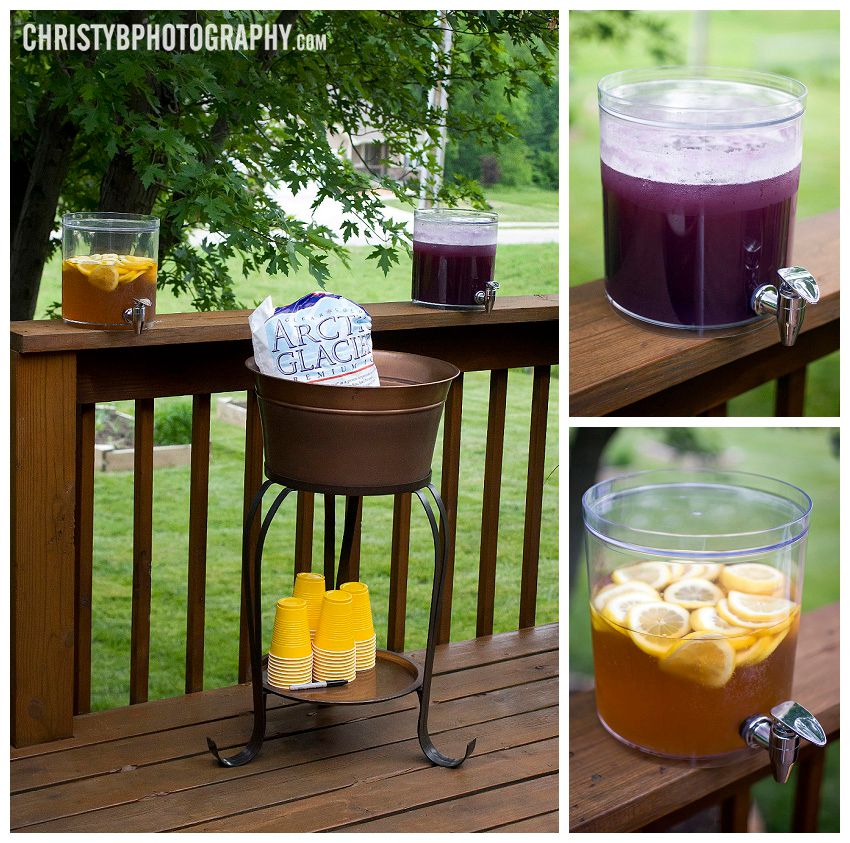 And finally, the decorations.  Of course, I forgot to take pictures of two of my favorite creations.  One was a 20×24 open frame with jute rope strung across where I clipped, with mini clothes pins, each of my son's school pictures over the years, Pre-K – Senior.  On the refrigerator I displayed magnets of all of his sports photos since pre-K.
Pictured below is our entryway table displaying baby pictures, a basket for cards and all of the awards he won at his senior awards assembly.  Our coffee table held a bouquet of balloons with a gold glittered graduation cap weight.  I used his grad. cap and gown again as a decoration for the party.  He couldn't get away without a little embarrassment so I created displays of pictures of him over the years –  horse show pics, Halloween costumes, sports action shots, etc.  Finally, we added a little purple and gold outside so people would know where the party was.  All very cheap ideas that turned out great, I thought.  I had so much fun pinning PINTEREST boards with ideas and seeing them come to life.  Now I have four more years to collect new ideas for my daughter's graduation!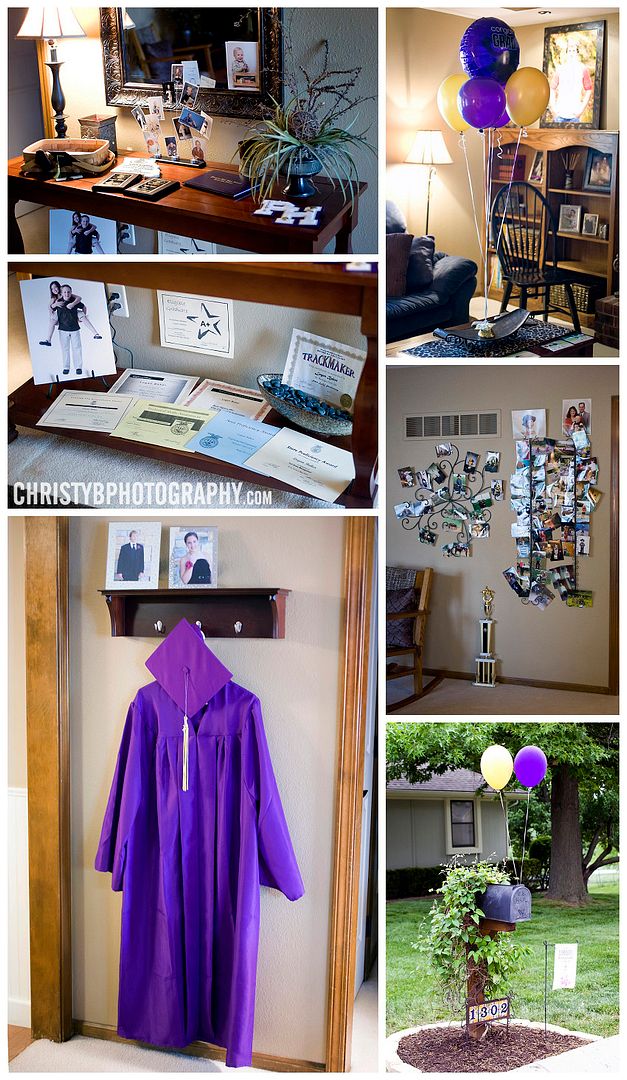 Linking up with: